About Us
OUR STORY
We sold our first cheese in 1996, the culmination of six years of trial and error on the farm and in the kitchen by our founder David Wood. Then, as now, our cheeses are all handmade, using traditional methods and only natural ingredients. The list of what we put in our cheese is short – 100% pure goat milk, sea salt, dairy culture, and rennet. The quality of those ingredients is the key to its great taste.
Our cheese is made on beautiful Salt Spring Island, and we continue to be an entirely family owned and operated company with a team dedicated to the highest quality. We pride ourselves on delivering great taste in beautiful packaging and we guarantee that every cheese receives individual care and attention.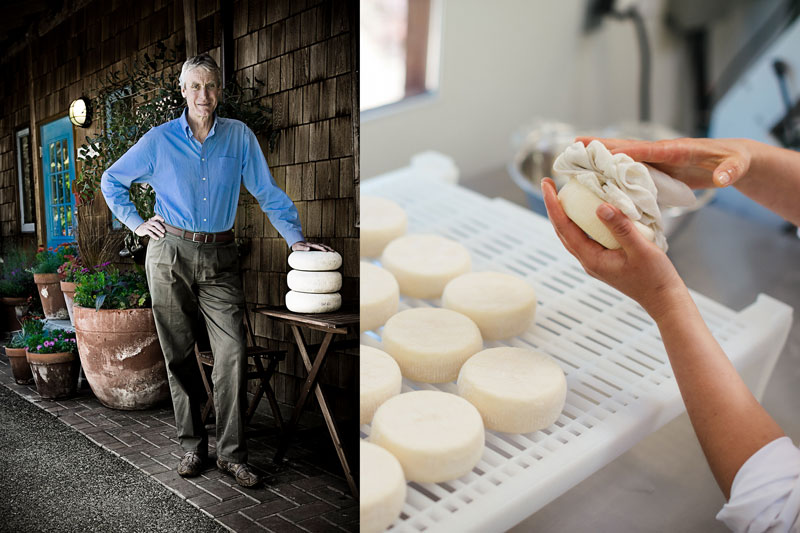 Our goal is to make simply the best tasting and looking cheese you will find, from one of the most beautiful islands in the world.
Join our Cheese Club and receive first access to our  carefully curated monthly Cheese Boxes. Sign up for the General and/or Cheese Box newsletters to ensure you are aware of what we have available each month. From Valentines Day to Christmas Day, our boxes cover all the occasions when cheese makes a great gift.
Shop
OUR CHEESES
Artisan Goat Cheeses
At Salt Spring Island Cheese Company, we specialize in hand packaged artisan goat cheeses. All our cheeses taste just as good as they look, and we take care to make sure that all of them are beautiful.
Farm Shop & Café
VISIT US
While on Salt Spring Island, you will be warmly welcomed at our Farm Shop and Café (open July until Labor Day). You can also wander around the farm to see the animals, enjoy the scenery, and watch cheese being made through our viewing windows in our production facility. Be sure to grab a bite of our latest culinary creations in the café or at a quiet table in our garden.
FARM SHOP
We offer samples of all our cheeses, as well as selling accompanying foods and beverages. We sell a selection of local foodstuffs including chutneys, jams, crackers, vinegars, honeys, smoked salmon, and more, as well as a host of goods from further afield, such as olives and olive oils, teas, and cordial.
Feel free to wander around the farm, see the animals and enjoy the scenery or watch the cheese being made through our viewing windows in every room of our production facility.
We are open every day, except for Christmas Day, Boxing Day, and New Year's Day. In the summer months (starting March time change) we are open from 10-5pm, and in the winter months (starting November time change) from 10-4pm.
CAFÉ
During the summer busy season, we have a café open. We serve simple delicious fare, pizzas, salads and our pride and joy, a goat cheese cake made entirely with our own cheese and served with seasonal fruit and berry compote. We use local ingredients as much as possible. We also serve gelato made out of the same goat milk that we use to make our cheese.
Enjoy your meal in our courtyard and nearby garden. Our café is a perfect place to spend an hour or so at the cheese company, enjoying the setting and ambiance.
From Sept. 4-30th the Cafe is open Fri, Sat + Sun from 11-2pm. Order in the shop and wait in the garden while your pizza is being made.
Find us in Thrifty Foods, Fresh Street Market, Spud and many more
grocery and specialty stores throughout Western Canada .