WELCOME
Artisanal Cheese Lovers,
We think you should know about our monthly cheese gift box...
Read on to:
1) View and purchase our February Cheese Gift Box
OR
2) Sign-up to be part of our monthly Cheese Club and be the first to know and to receive special offers
AND
3) Hear what others have to say about our Cheese Gift Boxes and read our customer reviews. (We promise they aren't too cheesy.)
THIS MONTH'S CHEESE BOX
From Valentines Day to Christmas Day, our boxes cover all the occasions when cheese makes a great gift. Our specialty Cheese Boxes are carefully curated and available for delivery across Canada only to ensure the safe travel of fresh cheeses.
Get first access to the newest gift box release when you sign up for our Cheese Club Mailing List. Plus, save money on your cheese habit with club member credits.
Sign up now and get your $10 discount!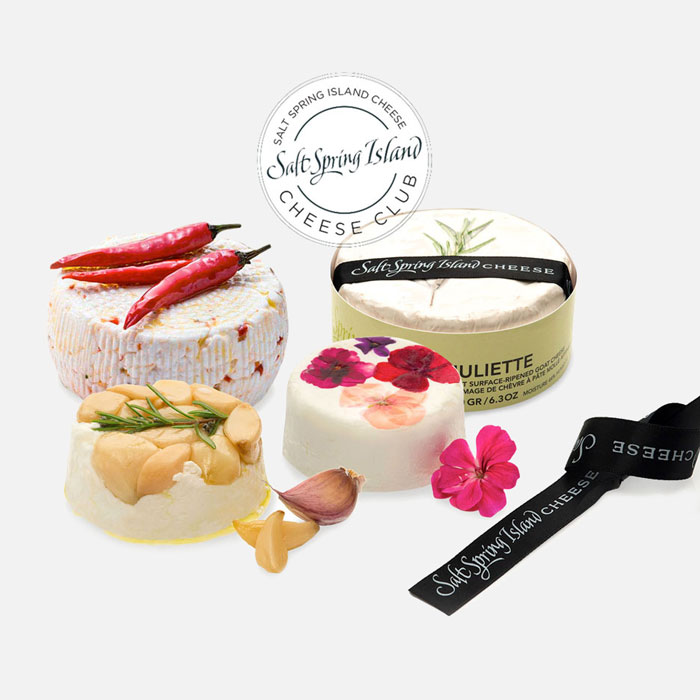 Get first access to the newest gift box release when you sign up for our Cheese Club Mailing List. Plus, save money on your cheese habit with club member credits.
Sign up now and get your $10 discount!
Why Join Our
CHEESE CLUB
1. Never miss out on this month's cheese gift box
Each month, our expert team on Salt Spring Island, prepares a carefully curated and playfully themed cheese gift box, and Cheese Club members are the first to know. Each Box is loaded with unique handcrafted Items, such as cured meats, a fine selection of our local goat cheese, and surprise items from our locally stocked dry goods and preserves. We also sometimes create exclusive new cheese recipes and flavours that make their way into our boxes. The cheese gift box is sure to delight cheese loving family, friends and coworkers.
2. Earn and use credits to re-invest in your cheese habit
Cheese Club Members earn points on purchases of our products that we make ourselves and sell exclusively (like our Cheese or Accompaniments). Every time you buy one of these products, 5% of the price is added to a balance within your account of redeemable credit. You can use that credit online or in store with your own secret club member passcode! You can use your credits on many of our products, including the monthly cheese gift box.
3. Join the club for free AND get $10 off your first online order
Receive your first perk immediately when you finish singing up for our FREE Cheese Club Membership. You will get access to a customizable dashboard and secure member account. Make sure to sign up for the cheese club mailing list so you receive monthly gift box updates. Please note, online purchases have a $80 minimum, to make shipping and packaging efficient.
CUSTOMER REVIEWS
I just wanted to write and express my gratitude for your beautifully curated cheese box! I live in British Columbia and it was so special to be able to send my mom (in Saskatchewan!) a special gift of cheese and treats made here! Can't wait to send another for a surprise or special occasion!
Thank you again!
Sky-Lee Jarrett
We recently received a package from Salt Spring Island Cheese as a Christmas gift. We live in the village of Westport in southeastern Ontario.
We were absolutely amazed at the quality of your packaging to ensure that we received your products in the freshest possible condition. The cheeses and the meat were well refrigerated with all 5 ice packs still fully frozen. Everything was in perfect condition. Considering the distance the parcel travelled and it being the time of year when shipping volume is extremely high, this is indeed a testimony to the quality of your packing.
The care and effort that you take to ensure that your products are packaged so that they are received cold and undamaged is wonderful. In addition, your commitment to using recyclable and reusable packaging is highly commendable.
We are thoroughly enjoying our "basket" of goodies. Thank you!
Sincerely,
George Jones and Barbara Fritz
Peek Into
SOLD OUT CHEESE BOXES
Artisan Goat Cheeses
At Salt Spring Island Cheese Company, we specialize in hand packaged artisan goat cheeses. All our cheeses taste just as good as they look, and we take care to make sure that all of them are beautiful. Our cheese gift boxes are a delightfully simple way to receive this exquisite quality on your doorstep.